The BEST Wired Doorbell - Amcrest AD410 Review
The Amcrest AD410 features some really great features such as Person Detection, local and cloud storage, RTSP and so much more, but is it any good?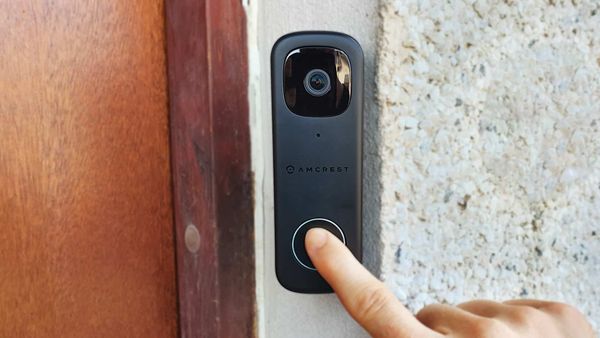 Amcrest recently released a new 2K video doorbell, the Amcrest AD410, that packs some really interesting features that at least on paper, have the potential to tick all of the boxes that many of us have been desperately asking for, but does it actually live up to the expectations it promises?
In the interest of transparency as always, Amcrest did provide me with this Doorbell, although I requested it from them since lots of you guys were interested in me reviewing this model.
Video Review
Specs and Features
4-Megapixel CMOS Sensor
2560×1920 (2K) @ 15FPS
164 degree Field of View (FoV)
Night vision: Up to 16 feet.
Motion Detection up to 16 feet.
IP65 Weatherproof.
MicroSD Storage up to 128GB.
Built in microphone & speaker for two-way audio.
Dualband Wi-Fi Supports 2.4GHz & 5GHz WiFi Networks.
$149.99 USD (GBP to be added)
Let's talk about some of the specs and features that the Amcrest AD410 has to offer, firstly its a 4 megapixel sensor giving you a 2560 by 1920 resolution with wide dynamic range at 15 frames per second with a nice wide field of view of 164 degrees. It of course has motion detection, and this new model also has person detection built in locally on the camera too, as well as the usual  2 way audio. It uses your existing doorbell wiring for power but works over WIFI and you can record to an internal SD card or to the cloud with a subscription, and it also supports RTSP meaning you can use it with any NVR of your choice and the AD410 comes in at a price of $149. At the time of writing, its currently only available in the US, but the previous model, the AD110, was sold here in the EU and the UK, so I'm hoping it won't be long before we get this model too.
Installation and Setup
Installation is really simple as far as a doorbell goes, first you'll need to wire up a tiny little power box (included) into your existing doorbell chime by simply attaching 2 wires, and this regulates the power for the doorbell. Then the only other thing to do is to screw the included face plate into the wall, attach the 2 power wires into the back of the doorbell and clip it into the faceplate. Amcrest includes 2 angled wedges inside of the box, one to angle it out from the wall and one that allows you tilt it more towards the ground. Note that I 3D printed a much more aggressive mount for my doorbell just to really get the optimal angle for me. You can also easily snap in and out the doorbell into its mount using the included little eject tool, and this makes it really easy if you ever need to remove it, or access the SD card slot in the back.
After that, simply add it to the Amcrest home app by scanning the QR code either on the back of the doorbell or inside of the box and the Amcrest app will walk you through the rest of the setup of connecting it to your WiFi. One nice feature here that you don't often see if that the Amcrest has the ability to work on 2.4 or 5ghz WiFi so that you can choose whatever is most suitable, it will also ask you what sort of doorbell chime you have, and this doorbell can work with a mechanical or digital chime, and you can also hook it up to an Amcrest wireless chime that they sell.
Amcrest Smart Home App
Using the Amcrest app is a mostly positive experience, I really like the layout, its simple to use, has pretty much all of the features you want and need and for the most part it does its job well, for the most part, more on that in a sec. On the main page you will have a list of all your Amcrest devices, I only have one here, and then taping into that will give you access to the livestream where you can toggle the 2 way audio controls, the livestream quality as well as take snapshots and record straight to your phone.
Diving into the settings menu there are a number of options that you can use to control the behaviour, and you have pretty much everything you need. You can control the individual settings for both motion detection and human detection, with separate sensitivity, zones and schedules for both of those which I really like to see, having the ability to be able to turn off all motion detection but have person detection still on is really nice, and I love that you can configure separate zones for both motion and and person detection rather than them both being lumped into one zone, this gives you so much flexibility if you need it. They also both support configuring multiple zones which again is really appreciated. There doesn't seem to be an option for a privacy mask here though so just something to be aware of.
You can also change the recording resolution, toggle wide dynamic range, as well as control the built in LED. The built in LED is actually pretty cool for illuminating your porch when its super dark and can be activated by motion or on schedule, just be aware that this could mess with the image quality of the recordings depending on your environment so just be sure to test it out first.
There are 2 things I found missing in the settings that I would like to see, number one that there is no control over pre and post recording settings so how long before an event to record and how long after to record, Luckily Amcrest have done a good job of recording enough before and after an event by default but it would still be nice to be able to set that myself, And number 2, I'd like to see a bit more control over the notifications at the moment you can only have a basic enable or disable push notifications and you have the option to do a basic schedule, but ideally it would be nice to see a geofence option here so that you only get them when you are away from your house.
A few other things I ran into that could do with some improvement are mostly around the responsiveness, I'd say like 85-90% of the time its really responsive, but then occasionally it will just take a bit longer to do something than it normally does, usually when opening the live feed. Most of the time its fine, but then its just that one or two times your waiting for an extra few seconds. It also takes quite a long time for recordings to actually show up, for instance if you get a notification to say that motion was detected and you press it within sort of the first 60 seconds of getting it, you won't be able to play back the start of the event because its still recording. Also these are two really tiny complaints, but I wish that the recordings would auto play when you open them from the notification rather than waiting for you to hit the play button and also that the app would remember if I had the stream set to low quality or high quality, every time you close and re-open the stream it defaults back to low quality. As you can tell though I am really nit-picking at flaws here.
In terms of responsiveness of the notifications whenever the doorbell button was pressed though, they were excellent, they always worked with no missed events and came through very quickly. They also include a thumbnail image of who's at the door although I would like it to be a little bigger, and tapping the notification will take you straight into the live view where you can respond through the two way audio.
You can also record up to 3 custom quick response messages that can be played out through the speaker on the doorbell, for when you are receiving deliveries for example.
Image Quality
Now lets talk about the all important image quality of the Amcrest AD410, and as mentioned this is a 4 megapixel sensor at 2560 x 1920 with a really nice 164 degree field of view. It is a little bit of a lower frame rate than you might expect at 15fps, however honestly I don't think that is a big deal for a doorbell camera and in my experience I didn't find myself needing the extra framerate.
In the daytime, you get a pretty good image for this size of sensor, plenty good enough to make out people and faces, but what was super impressive to me was the dynamic range it had particularly when enabling the wide dynamic range setting. Take a look at this shot here which is incredibly challenging right, we literally have the sun in the worst possible position for the camera here shining directly into the lens, yet you can still clearly make out my face, honestly I can't overstate how impressed I was with this particular shot, I can almost guarantee the the vast majority of cameras here would have been unusable in this particular situation. Also that sun looks pretty freakin' cool right.
Night time performance was also really good, again it did take me by surprise at how usable the footage was, particularly the infrared LEDs combined with the image processing on the camera do a very good job of not just completely blowing out my face which a lot of other cameras do, a really impressive job there.
Motion detection and person detection works really well, person detection can take a few seconds extra to notify you over the standard motion detection, so you may want to fine tune your sensitivity so that you don't miss the start of clips, again this is where it would be useful to be able to adjust the seconds before recording time as very occasionally I would find it missing the start of the clip when it was using person detection only, but that happened very occasionally. Overall the person detection works really well in both daytime and night time settings on the Amcrest AD410.
Storage
In terms of storage on the Amcrest AD410, you really have everything you could want here, you can record locally to the doorbell itself using an SD card, or Amcrest also has a cloud offering for a monthly subscription fee where they have different plans and price points, or a massive feature of this camera is that it supports RTSP meaning you can use it with any NVR you want, or something like Blue Iris and that makes this so powerful and really opens up a ton of options, and that feature alone puts this camera in a very select group. Really glad to see they have given the storage some real thought, they really have kept everyone happy here by making all 3 of these options available.
Smart Home Integration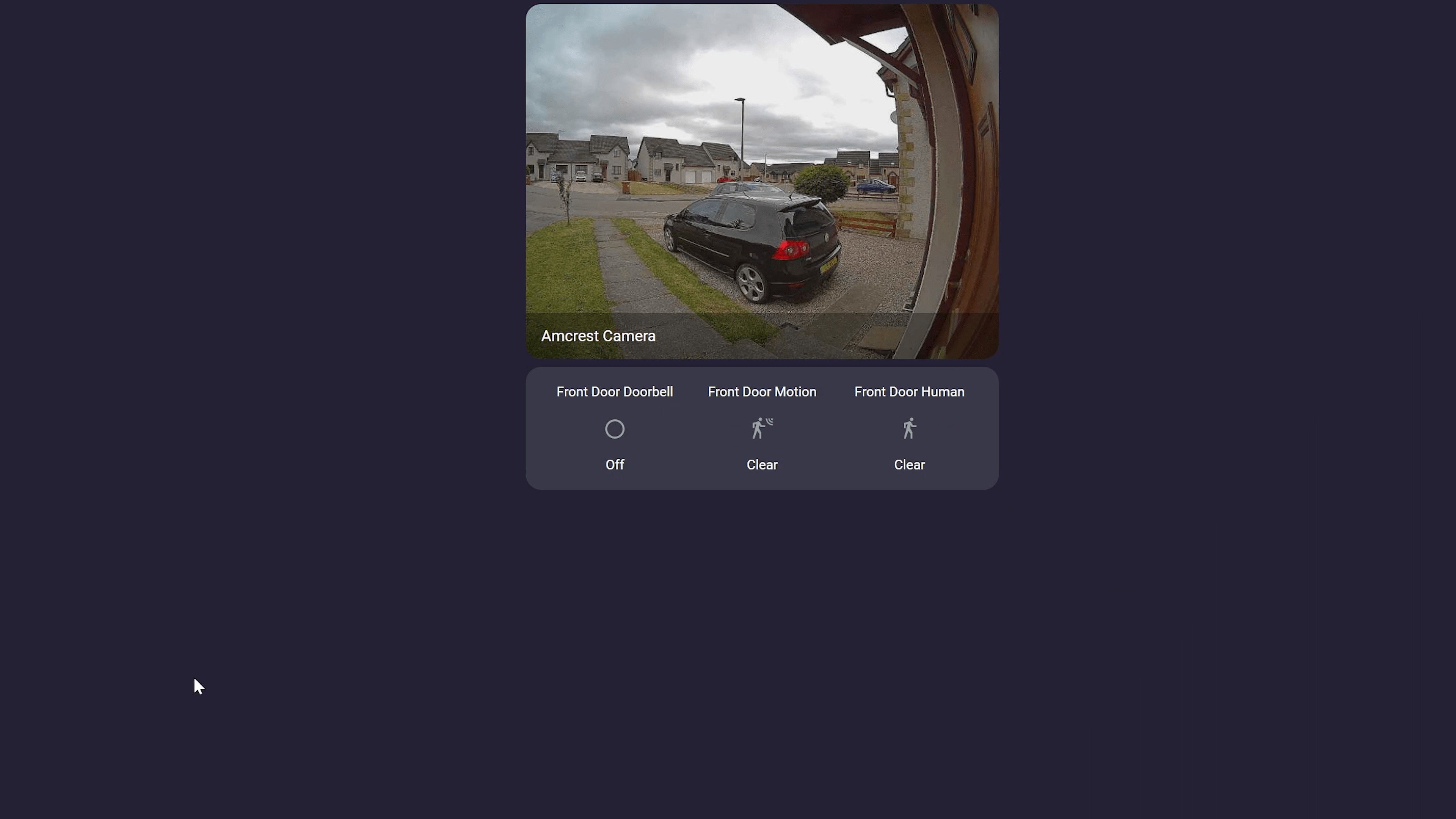 Unfortunately there is no Google Home or Alexa support here, at least not officially, however Home Assistant fans rejoice! The Amcrest AD410 works with the official Amcrest integration to give you the live feed as well as motion tracking, and via a community made integration called Amcrest2mqtt you can get everything working including the motion detection, person detection and the button presses which is excellent! Since it's available through Home Assistant, you could then also make it available to Alexa and Google Home in theory, but haven't yet tried it.
Conclusion
I absolutely love the Amcrest AD410, it has so many really great features including some AI features, the image quality is pretty good in both night time and daytime settings, especially how it handled that super bright environment and it gives you the freedom to capture and store the footage pretty much however you want, all for a great price and it's definitely a doorbell I am confident in recommending.
But what do you think about the Amcrest AD410 video doorbell? Are you thinking of picking one up? Do let me know in the comments down below!