SafelyTeam Wireless Alarm System Review
SafelyTeam released a new Wireless Security System that promises more than just home security, such as Smart Home integration and safety but can it deliver?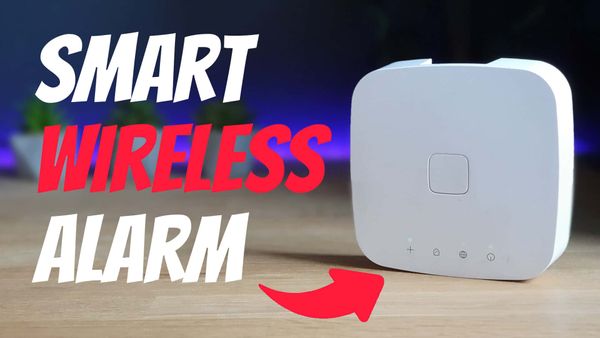 Home security is something that often goes hand in hand with our smart homes, with a new wave of companies entering the market with a much more modern and smart take on home security than the traditional wired solutions. SafelyTeam is one of those companies that has been developing their solution from the ground up with a focus on delivering much more than just alarm system but have they managed to achieve that?
Full transparency as always, all of the sensors and devices were provided by SafelyTeam, but no money changed hands and they do not get to see this review before it goes live. I do also want to mention that SafelyTeam is a fairly new company based here in the UK, but all of their products are available to buy direct through their website and not just some 3rd party or crowd-funding only.
Video
Ordering Process – A Personal Touch
Interestingly unlike most other products I get for review, the SafelyTeam experience actually starts with the ordering process.
As mentioned, SafelyTeam isn't just focusing on purely security in the traditional sense, but also Safety and Wellness, and of course Smart Home integration.
They have 3 packages that they offer as a base, however you can customise these however you want.
The first package is the Habitat package which is more focused on safety, featuring a flood alarm, heat alarm and air quality sensor for £219.
The defender package for £249 which is more for security with a motion sensor, contact sensor, a siren and a keypad with 2 wireless key tags.
Finally you have the Habitat + Defender package for £379 which is a combination of the first two packages.
Once you pick your base package, you're free to add whatever additional sensors you want to tailor it to your needs and all 3 packages also include the gateway, which we will talk about in a minute.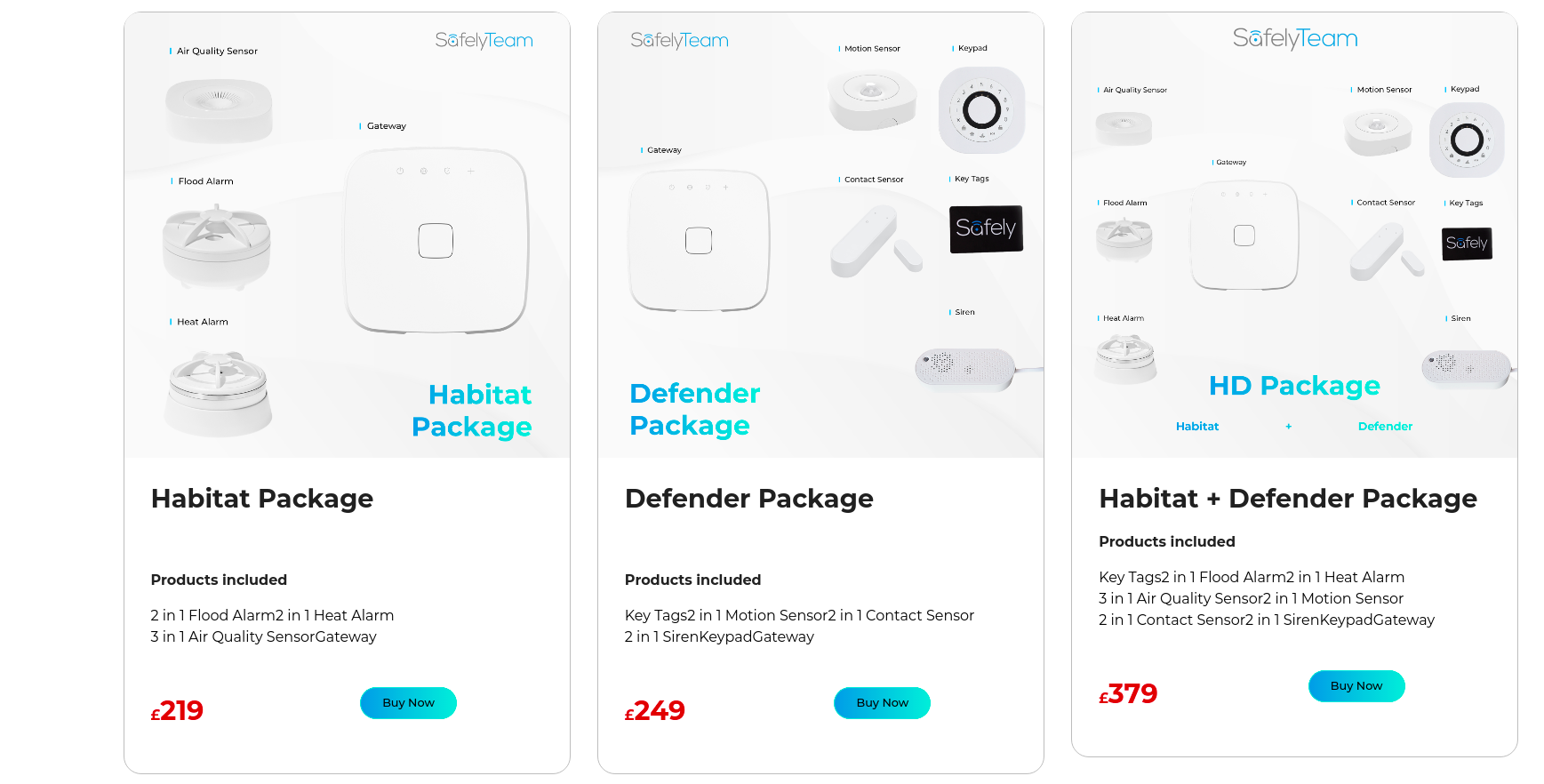 fter I went through and placed my order, I was then asked to assign devices and sensors to rooms in my house and this is actually so they can tailor the experience to be a bit more personal. After that you can select a 1 month free trial of their gold monitoring service which gets you access to full 247 365 monitoring, after which it costs £18.99 per month.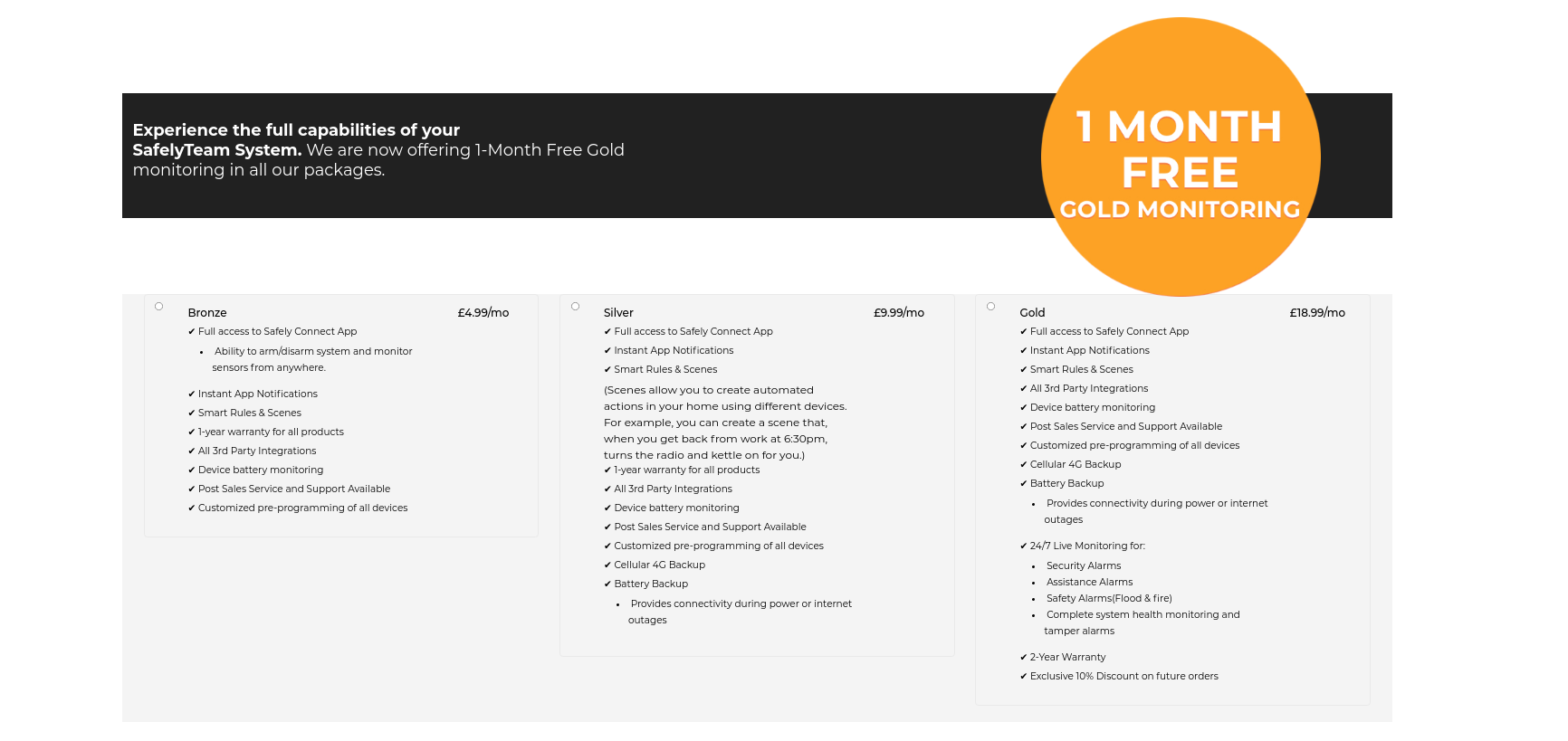 When your kit arrives, the first thing you'll see upon opening the box is a quick instruction letter. Under that you will find the box for the gateway which is labelled "open me first" – this is the first step in the setup process, and remember earlier when I mentioned there was a bit more of a personal touch on everything? SafelyTeam has personally taken all my devices, opened them, pre-configured them all labelled them before shipping them. This isn't just a special experience for me, this is the same experience that you would receive also as a customer.
This allows them to set everything up in advanced so that you don't need to spend time walking around your house, pairing all of your devices and setting each one up individually, it's all just done for you, but also it allows them to quality control every sensor so that you can be safe in the knowledge that when it arrives with you, it's guaranteed to work.
Setup Process
After unboxing and plugging the gateway into power and ethernet, I downloaded the Safely Connect app, created an account and logged in, and my gateway and all of my devices were listed in the app, with the gateway already online and connected, absolutely no setup required from me – amazing!
After that it was a case of unboxing the rest of the sensors which are all individually labelled on the side with the location you pre-configured during the ordering process, and then sticking them in those locations, then simply pull the battery tab to turn them on, and each one will come online in the app immediately.
And that's pretty much it for the setup, you really can have this from the box to operational in about 10 minutes or so. I really love the simplicity and ease of use here, the entire process really is seamless and pretty much anyone can install this system since it all comes entirely pre-configured.
Hardware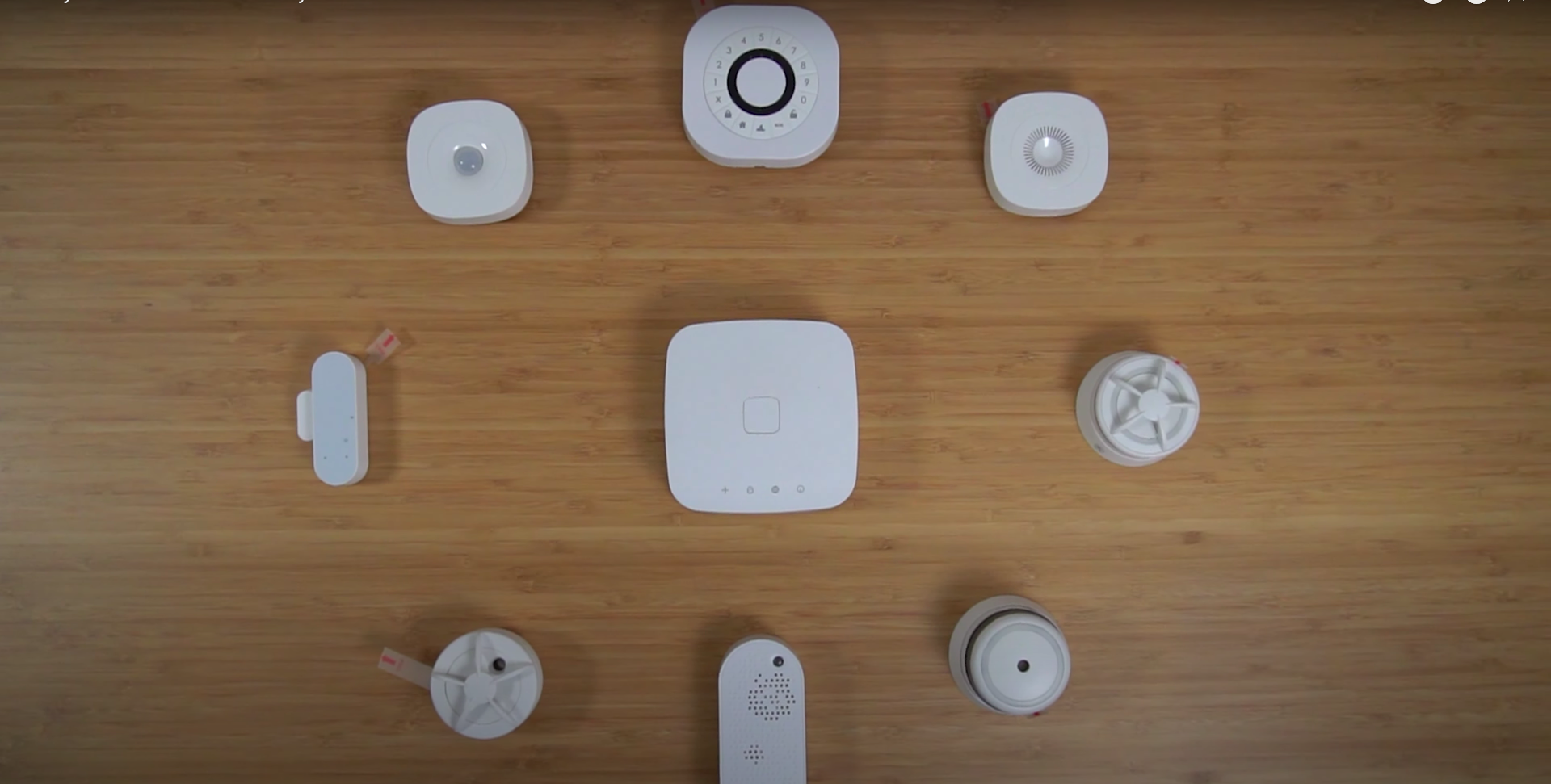 Now let's talk a bit more about the sensors and devices you get, all of the devices are completely wireless, except from the smart plug obviously, the siren and also the hub/gateway. They are built on the Zigbee 3.0 protocol and as far as I can tell, are completely standard Zigbee – no shenanigans going on, I was able to actually pair them with my home assistant and the devices just showed up instantly with all their functions operational. Really glad to see that.
If we look closer at the sensors, they are actually made by a company called Develco which I hadn't personally heard of before, but after a bit of research they appear to be a white label supplier of sensors and IoT devices, which I personally think is a good choice, since SafelyTeam is a newer company, I'd rather them leave the hardware aspect to a company who has been around a lot longer and seems to have a proven track record having been around since 2007.
The nice thing about all of the sensors and devices is that they all don't just serve one function, they have multiple sensors inside. So the contact, motion, flood, heat, smoke and air quality sensors, they all have temperature sensors built right into them which is really nice, and all the security focused devices, the contact sensor, motion sensor, keypad and siren have tamper protection built in also, while the safety focused devices so the flood, heat and smoke sensor have audible sirens built into them for when they are triggered also and man are they loud. The motion sensor also has a light sensor built in too, it's not currently activated but that should be coming soon.
The air quality sensor is a bit more of a unique one, it measures temperature, humidity and something called volatile organic compound or VOC, essentially monitoring air quality and letting you know when you need to open the window for fresh air to help prevent the VOC levels getting too high.
Battery life on all these sensors is actually pretty incredible to be honest, I haven't obviously been able to test them fully myself but their claims for battery life are very good:
Keypad – 12 months
Air quality – 2 years
Motion sensor – 3 years
Smoke alarm – 3 years
Heat alarm – 5 years
Flood alarm – 5 years
Panic button – 5 years
Contact sensor – 9 years
One thing you might have noticed earlier is that these certainly aren't the cheapest of sensors and I do think this is the one area that SafelyTeam needs to improve on a bit, particularly around the contact and motion sensors, since those are the ones you are going to be buying quite a few of most likely. Currently the contact sensor is £30 and the motion sensor is £35 which is pretty expensive and will definitely start to add up, if they could even reduce the price of these by £5-£10 then I'd be much happier given that they all include temperature sensors as well as some other features.
Gateway – Lots of connectivity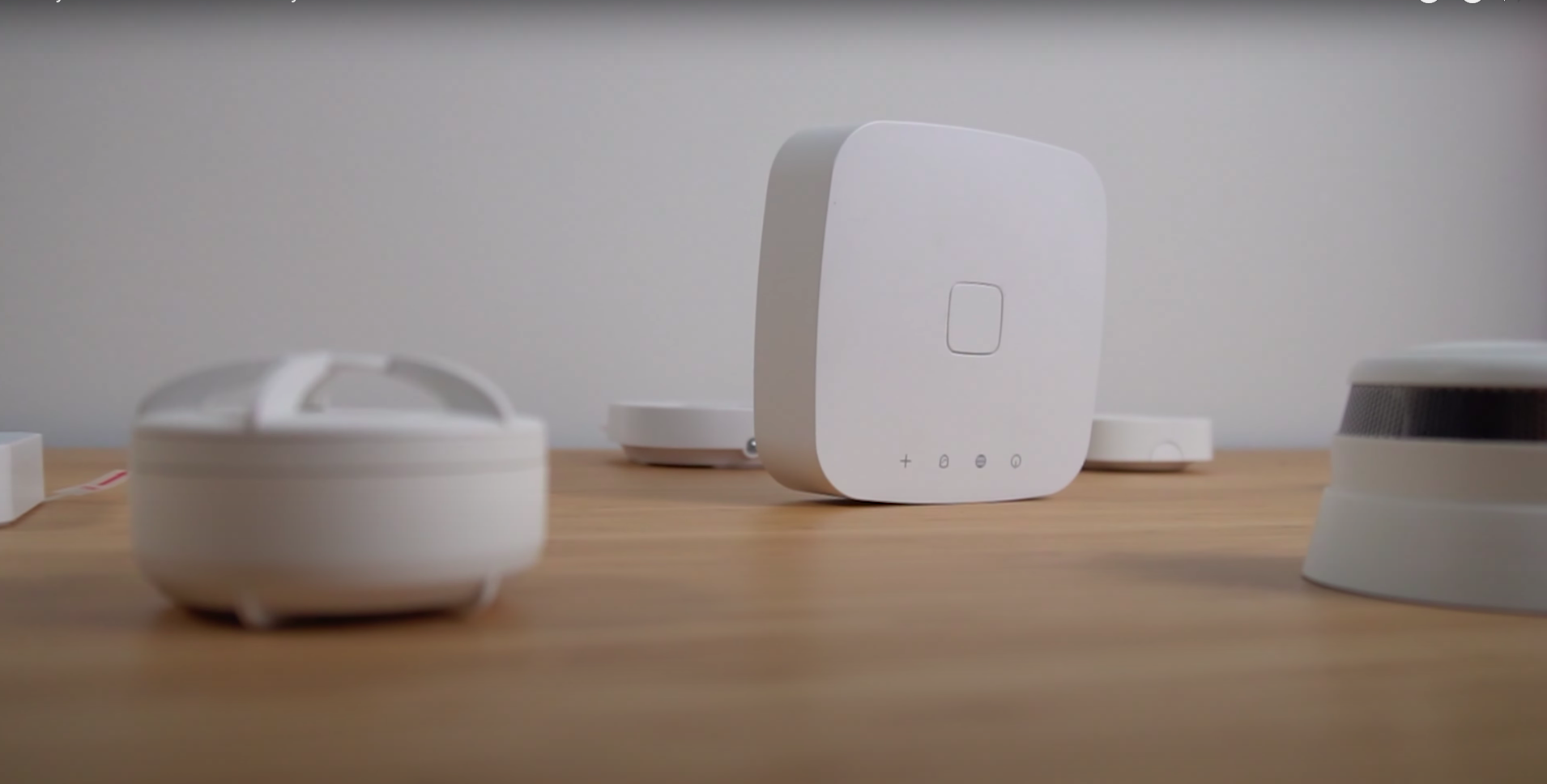 Finally let's discuss the hub or as SafelyTeam calls it, the gateway, and some of the features it has. It's this fairly small and un-assuming box that has some LED indicators on it, however it does have some pretty cool and unique features, firstly connectivity – it has quite a lot, alongside its Zigbee 3.0 radio it also has Bluetooth Le 4.2, Ethernet and WiFi. SafelyTeam would prefer you had it plugged into Ethernet for a more reliable connection, however you can connect this via WiFi instead if you want for where Ethernet isn't convenient.
If you have it plugged via the network cable and that drops off for some reason, it will automatically pick up WiFi and carry on working. However, what if your WiFi or internet goes down? Well the gateway is actually fitted with an eSim which is pre-activated with a silver or gold subscription which we will get too soon, meaning it will automatically connect to the internet over 4G so that you can still access your security system should your house go dark so to speak.
But what if your house ACTUALLY went dark with a power cut? That's where another nice feature comes in, it has a battery backup built right into it which kicks in instantly as soon as the power goes off and I was actually able to test the battery life on this, getting just about 2 hours of life from the battery which is pretty impressive.
Also the hub has local processing, so if you do happen to be caught without internet and without mobile data then the functions that can execute locally will continue to work. The siren also has a built in battery backup, allegedly lasting 12 hours, not sure if this is with the siren running or not, but there is no way I could test that for even more than a few minutes because this thing is LOUD.
SafelyTeam App and Automations
OK so we've spoke a fair bit about the hardware, let's now take a look at the app and the performance. When you open the app you will land on the main dashboard, which has all of your devices laid out in a nice looking, simple and easy to use interface in these tiles.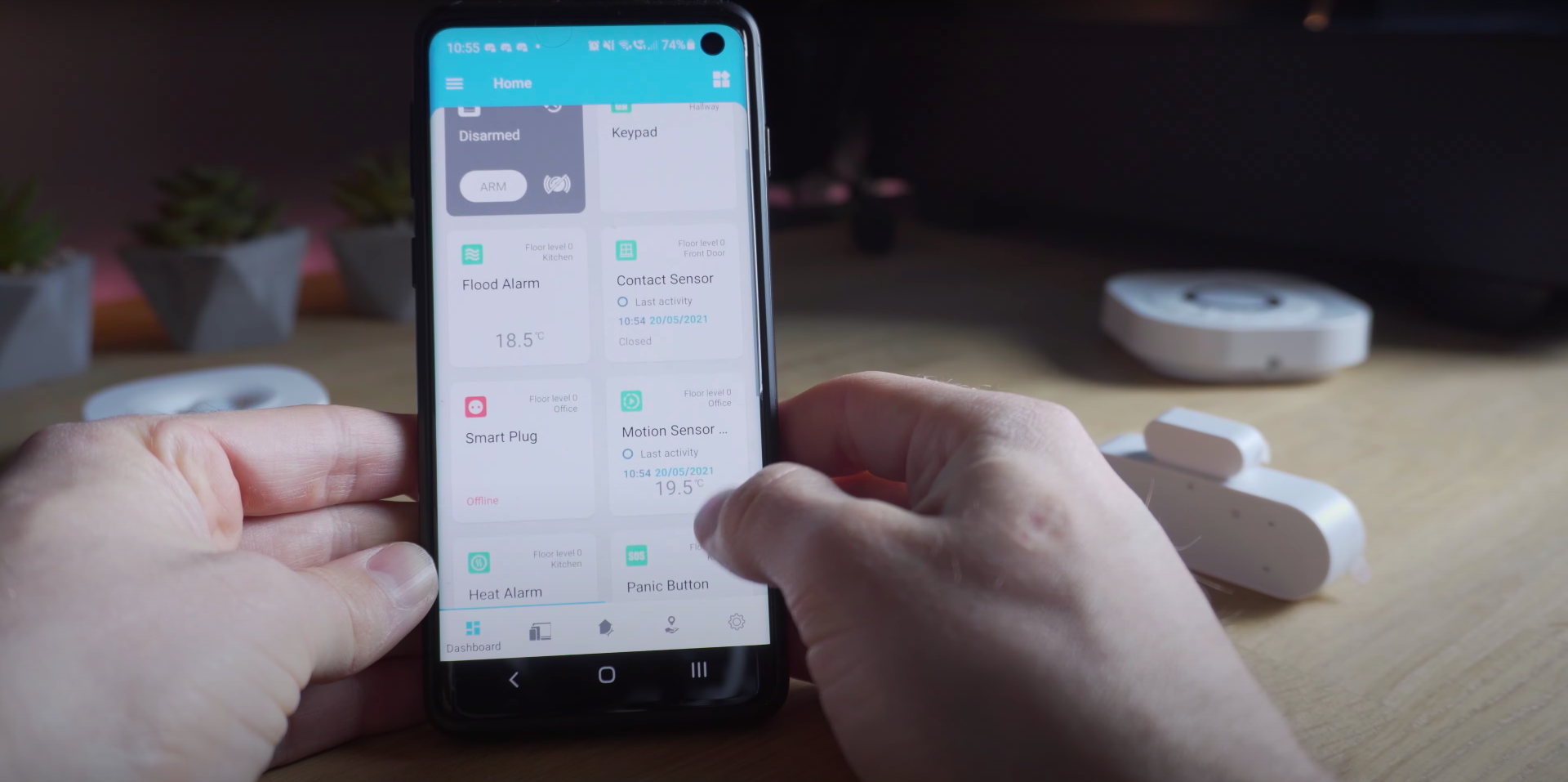 Tapping into the tiles will show you the current state of the sensor, as well as the temperature and battery where applicable, as well as the last activity on that sensor. In the top right you can also change the name of the sensor as well as change rooms if you want to move things around too.
On the main page you can also swipe over to create more dashboards and configure the view in a way that makes sense to you.
Tapping the devices menu allows you to see all your current devices where you can edit them, and this is where you can also add new devices you might buy in the future.
The next page over is the automation page and weirdly for this channel I'm not going to spend too much time here and that's because it is in its very early stages at the moment so there isn't much to discuss.
All you can do at the moment is group smart plugs together, use smart plugs in a scene for lighting and also you can create pretty much one basic rule which is a thermostat, you can use any of the temperature sensors to turn on or off a smart plug that would be connected to a heater or air-con unit in order to control the temperature. I don't see that as very useful at the moment but this is in its early stages and according to the SafelyTeam road map, they plan to expand this functionality in June this year.
They are also working on integrations with Alexa, Google Home, Smartthings, Philips Hue and IFTTT which should add much more functionality and this is planned for August 2021, however at the moment it is its own standalone platform. I get what they are trying to do with building their own rules and I think that's an important part of the solution, however I don't think they should prioritise this over integrations with 3rd parties.
The vast majority of people looking at this solution are already going to have some sort of smart home platform through Google Home or Alexa or Home Assistant and so I think it would make this a much more attractive product to seriously prioritise 3rd party integrations over trying to build their own rule engine first. Having your own rule engine is important for people who don't have a smart home but integrations with existing smart homes should be more important.
Being able to use these sensors with other aspects of your smart home would be a game changer for this platform, using my motion sensors to turn on my lights as well as performing security duties for example is pretty essential, and making this platform work with Google Home, Alexa and Home Assistant where they already have a vast catalogue of pretty much every device out there is a much quicker route to making that happen as opposed to trying to start from scratch and reinvent the wheel. It really makes sense to leverage existing platforms first in my opinion.
It would also make a ton of sense for them to prioritise a local api on the gateway, this would make third party integrations with things like Home Assistant easier but also it just makes sense given that they already have the local processing on the hub so this would be a natural extension of that and I think would really make it a far more attractive offering for customers.
SafelyTeam Alarm – 24/7 Property Monitoring
Finally, we come to the actual alarm functionality which is obviously a major component of this entire setup. SafelyTeam offers a 247 monitoring service with their gold subscription so that you can have 24/7 monitoring on your property. This is done via Stanley Security which is a very well known security monitoring service around the world and they are NSI Gold certified. They will continuously monitor your property for breaks in, as well as flood and fire alarms.
The way it works is that you register up to 4 contacts and their phone numbers in the app, and you also register a safe word of your choice. Then if the alarm is triggered they will immediately contact the first number on the list and ask them to confirm identity with the safe word. If the first contact can't be reached then they will go through the rest of the contacts in turn, and if they still can't make contact then they will text your phone. Police dispatch isn't there yet but is said to be released in Q2 of 2021 so shouldn't be too far away.
The app will also notify you immediately of any changes such as the alarm being set or triggered, as well as if you need to open a window if the air quality sensor is triggered.
I did however have issues with the monitoring of my property, everything would trigger properly, the alarm would go off, the siren would be going off, I'd get the notification to my phone and in the app but the alarm company wouldn't call me, apparently this was due to the area or post code I live in not yet being updated on the database at Stanley Security, it shouldn't be an issue for you guys but I did want to let you know about that.
Subscriptions
I did want to touch on the subscriptions here because I feel it's pretty important, there is 3 different subscriptions that they sell, bronze for £4.99 per month, silver for £9.99 per month and Gold for £19.99 per month.
Now there is a lot of information here so make sure to check the image, but the main ones are that silver has all the features of bronze but with the 4G esim enabled in case you lose WiFi, fair enough that obviously costs money, and Gold has the same as silver but you get the 24/7 property monitoring included also, again totally reasonable since that obviously costs money also.
But when I saw that I was like OK that makes sense, so what the the heck is the purpose of bronze? And then I re-read that first line again, "Full access to the Safely Connect App" and I'm like wait….so does that mean if you don't want to continue to pay a subscription then you get locked out of the app?
I actually queried this with SafelyTeam, I thought for sure it was just me misinterpreting this and a bad choice of words on the website, but this is what they said:
"Currently we will not be able to offer service without a subscription and the device will just work as a local device without an app ( this is still being implemented)"
I asked them to clarify that things will stop working without a subscription and they said:
"Currently it will still work, but in the coming months it may stop working, depending on how we implement it."
And that was my first moment of real disappointment with this, I really cannot get on-board with paying for a subscription fee to use hardware that you have already paid for, especially when that hardware is already pretty expensive as it is, I would have a very hard time believing that they are selling this hardware at a loss in the hopes of regaining the money through the subscription. If they are selling this hardware at a loss, then they seriously need to have a word with the hardware supplier.
The saving grace here is that this has not yet been implemented like they said and currently you do not need any subscription to use the app and so that means they can still reverse this decision – SafelyTeam, if you take one thing from this review, please just scrap that entire plan and make it two subscription tiers only.
Conclusion and Final Thoughts
I have been living with the SafelyTeam system for over a month at this point, I have quite a good feel for how it works. When it comes to the hardware I have no real complaints at all, the system is incredibly responsive and just works every time, no weird sensor drop outs or random missing of events. I also love how every device has a temperature sensor built in to it and the battery lifes are pretty phenomenal, again if accurate.
It's also super easy to setup, literally anyone could set this up, since SafelyTeam pre-configures everything for you beforehand. All you have to do is stick the sensors where you want them and pull the battery tab, it really doesn't get much easier than that.
The software is also really simple and intuitive too, notifications always came through when they were supposed to, the layout is really nice and easy to work with and is just overall really responsive and fast.
Pricing is where SafelyTeam has the biggest problem right now but the good thing is, that is probably the easiest thing for them to fix. The pricing of their hardware is definitely on the high side, and their monitoring service for £18.99 isn't too bad, however SimpliSafe, an obvious competitor to this system comes in at £19.99 but they have more features and the police dispatch actually works right now.
But again, these are all super easy for SafelyTeam to fix, as opposed to the hardware just flat out being bad. If they can pull both the pricing of their hardware and monthly subscription down a bit to be a little more reasonable then that makes this a far more attractive offering.
So it would seem that SafelyTeam have nailed almost every aspect right? Well actually, yeah! Sure there are definitely some key features missing mostly around the software such as the police dispatch not being a thing yet and the 3rd party integrations not yet implemented either, and I can't give my full recommendation with that Bronze subscription still being a thing. However, everything they do have so far is solid, and if they can get those other features implemented soon then they have an excellent platform and base to start working from here and I'm pretty excited to see where they take this in the future.
For people looking for the new wave of security systems that do more than just security, that are reliable, easy to use and can be installed hassle free in 10 minutes, then SafelyTeam is a good candidate and worth considering if they can get that subscription issue resolved.